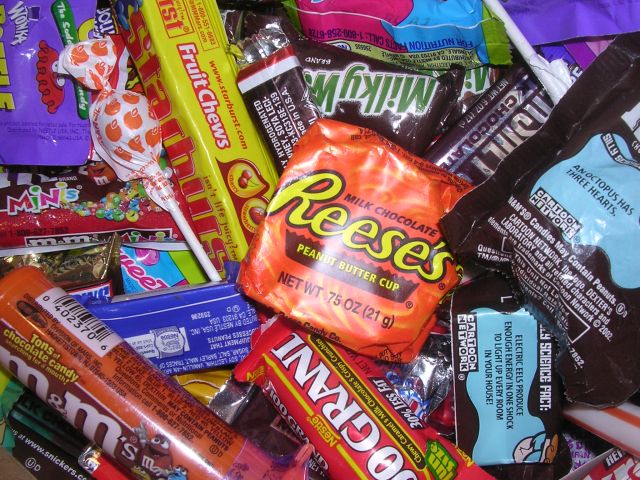 I am actually not that into candy. I far prefer a baked good if I am going for something sweet. All the same, there is so much variety, color and shape in the stuff that it makes for the perfect inspiration.
FIRST TIME PLAYERS!!!!! WELCOME!!!! :)


Tricia's Look:
"Simply Caramel Milky Way
.
Chadwicks sweater, Steve Madden Jolie Biker boots (my all time favorite pair)!
"
Winter's look:
Jillian's Look:
Chrissy's Look:
I'm thinking Andes mint?? :) dress,top shirt, and glasses are from target & pants were a present
.
Kim's Look:
Casie's look:
When I was little, the only candy that really mattered at Christmas and Easter were the Reese's Peanut Butter whatevers. Oh that peanut buttery chocolate deliciousness, formed into a brown Santa or egg. I think today, I am more of a traditional cup. mmmmm.....
Lisa's look:
Our mom's favorite candies are Fire Ranchers or fire suckers. The sweater represents fire and the candy wrapper.
Black shirt- Target, Jeans- thrifted, Sweater- gift from mom
Jonathan's look:
This is my handsome nephew. Today he is a delicious package of Twizzlers.
Kaitlin's look:
I have to say that I picked out most of this outfit for the niecey. Creating style and flair for the youth of America is a rewarding task. Kaitlin is cotton candy today. She says the boots are the white cone.
Outfit- Target
Boots- thrifted
Thursday challenge:
Office Supply